Biodroga Intense Moisture Formula
"The only moisturizer I have ever used that keeps my skin hydrated throughout the day". – Yvonne L. VIP client
Studies have shown that this Intense Moisture Formula increases hydration by +51% in 28 days.
WHY You'll LOVE THIS
Biodroga Intense Moisture Formula is a "break-through" in hydration.
Therefore it's considered an ultimate product for hydrating moisture-deficient skin.
It penetrates deep into the skin and restores moisture.
As a result,  your face will feeling hydrated all day.
Your face will  feel and look super soft, because of the amazing ingredients.
It has a unique formula,  including a nobel prize winning ingredient!
Dryness lines will "plump up"
This rich cream NEVER feels  heavy on your face
You'll like the light, airy fragrance.
At the Spa, this product is extremely popular.  Recommend using with Biodroga  Eye Cream and Cleansing Milk.
Tips & Benefits: 
Use Biodroga Intense Moisture Formula day and night.
It locks in moisture all day long.
Leaves your face looking luminous and feeling soft.
It  plumps up dryness lines.
Provides perfect hydration inside and outside.
Above all, skin looks radiant and clear.
A research study shows that Biodroga Intense Moisture Formula increases hydration by 51%.
So users see an immediate improvement.
A superior product from a professional skin care expert and spa.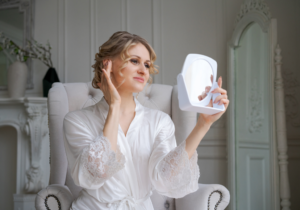 Welcome, beauty enthusiasts and skincare aficionados, to the Bella Reina Beauty Bonanza! Join me as we embark on an exciting journey through the world of Bella Reina's premier skincare products, carefully crafted to unveil your inner radiance.  If you're on a quest for timeless beauty and age-defying brilliance, you've come to the right place. Bella […]