Benefits of Collagen Face Masks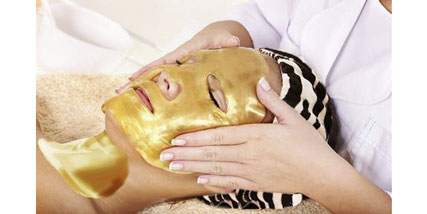 Yearning for a spa facial… but don't have the time or the money?
Then try using a gold collagen mask at home!
It is almost like having a spa facial!
If you need to rehydrate, detoxify, and relax… then there is no better way to do it. The beautiful Nancy Reagan 24K Gold Collagen Face Mask is truly made of pure gold. We think it is one of the best things that you can put on your face. Try pairing it with a bubble bath, perhaps a glass of tea or wine, and treat yourself to a nice night!
What is Collagen?
Collagen is the ingredient in your skin that provides both firmness and elasticity. It is essential to keep looking young and revived. As you get older and lose your collagen supply, your skin begins to sag or create wrinkled lines along the surface… leading to those dreaded wrinkles we all want to get rid of. The best way to reverse wrinkling is to increase your skin's collagen supply. Collagen face masks can increase your skin's collagen supply in the most elegant and royal facial treatment you can imagine, even if you don't have the time or the money to visit a professional spa for an expensive and lengthy facial.
What will a Collagen Mask Do for You?
Collagen face masks are the latest rage in-home care masks especially for reducing the signs of aging. Collagen is what is lost as the skin ages. It is responsible for holding together the tissues (the elastin and fibroblasts). Collagen is actually a protein that accounts for 25-35% of the protein in the body. Collagen is what our skin uses to keep it firm and springy. Sometimes anti-aging experts will refer to collagen as the glue. Can you believe that we start losing collagen around the age of 25?
So, how can a mask that is applied to the face help boost collagen? Well, a topical collagen face mask, such as a collagen sheet mask, helps to push collagen into the skin (because the mask is occlusive). When the liquid collagen is absorbed into the skin, it starts a physiological process in the skin. The skin cell cycles start to speed up. This process causes more collagen (your own) to be developed. This is why using a collagen mask once a week will keep your skin generating its own collagen. By generating your own collagen, your internal skin cells will speed up causing the skin to appear more youthful.
Collagen face masks can be a gel mask or cream. The preference at Bella Reina Spa is the gel collagen mask, because the liquid collagen is high quality, and combined with the hyaluronic acid, it will absorb into the skin faster.
Collagen Masks also:
Gives the skin topical collagen for softness and suppleness
Stimulates collagen production
Hydrates and plumps up the skin
Due to Hyaluronic Acid, the use of a collagen mask attracts moisture to the skin
Reduces signs of aging (fine lines, crows feet, rough skin) and creates softer skin texture
Affordable at-home spa treatment that nourishes the skin
Spa VS at Home:
The difference between having a collagen mask treatment at a spa versus at home is 2-fold. The treatment at the spa may consist of a facial massage prior to application of the mask. This massage will stimulate the skin even further to absorb the ingredients. Secondly, the spa may offer ultrasound penetration of the ingredients which increases the absorption by 10,000 percent. At the spa, you can also get a collagen face mask after your favorite facial such as a Dermaplane Facial or HydraFacial MD.
I've been called Nancy Reagan, the First Lady of Skin Care. And if you are old enough to remember former President Ronald Reagan, I'm also known as "NOT THAT" Nancy Reagan.
I believe strongly that the outer skin glow comes from within and that nutrition is an integral part of great skincare. Based on that philosophy, I started Bella Reina Spa, which is recognized as the Best Day Spa in North America with a team of 17 estheticians, massage therapists, and natural nail technicians. The Bella Reina website offers extensive knowledge on products, spa services, and beauty shopping, with a strong focus on vegan and cruelty-free beauty. Welcome to Bella Reina Spa! We look forward to helping you look and feel your best.