WHY You'll LOVE THIS
A Vegan Friendly, paraben free, natural makeup or foundation primer.
Retexturizes the skin, helping makeup last longer, and wear better.
Plumps skin to reduce the appearance of fine lines and wrinkles.
Sodium PCA helps Skin Retain Moisture
Dimethicone Locks in Moisture while Providing a "Slip" Texture
Antioxidant vitamin E helps prevent environmental stress
For All Skin Types
Tips & Benefits:
Think of a face primer as a "body shaper" for the face.
It smooths the lines, curbs the bulges, and minimizes any crevices.
Creates a "second" layer that acts a shield for makeup application.
Minimizes large pores and softens redness.
Gives the skin a luminous, healthy glow and locks in moisture.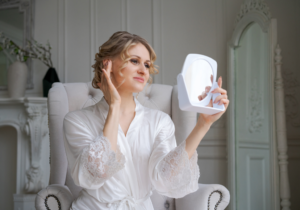 Welcome, beauty enthusiasts and skincare aficionados, to the Bella Reina Beauty Bonanza! Join me as we embark on an exciting journey through the world of Bella Reina's premier skincare products, carefully crafted to unveil your inner radiance.  If you're on a quest for timeless beauty and age-defying brilliance, you've come to the right place. Bella […]